Back to all posts
Posted on
WAS Student Makes a Difference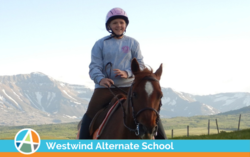 WAS student Margit Orban operates Alberta Luxury Soaps and decided she will do something good for our frontline workers this Christmas season. She asked her mom to find out how many staff work at the various medical facilities in Cardston and Pincher Creek and made over 200 gift packages with creamy soap bars, luxurious lotion and even included some beautiful beeswax candles her brother Vitez made to share with many who work so tirelessly for the benefit of our communities.

"I have made soaps for the medical clinic earlier this year and know everyone likes washing their hands with my creamy soap bars after a long day of using harsh liquid soaps at work", said Margit."One nurse told me she has just made the switch to natural products and she was excited to try my soap and lotion bars because they have only natural ingredients and are good for the skin."

We love seeing our WAS students contribute to their communities! Way to go, Margit!