Back to all posts
Posted on
WAS Shows Big Heart!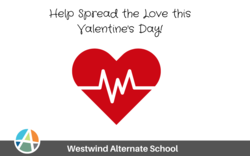 Westwind Alternate School would like to encourage all families to join in the spreading of cheer this Valentine's Day. We are asking families who would like to, to prepare cards or notes for the seniors in care facilities at this time. You can be as creative as possible! They will be required to be delivered on or before February 10th.
Please do not address the cards to anyone specific as we want to make sure everyone receives one. We have been in contact with Cardston, Magrath and Raymond facilities.
The notes/cards can be handed directly to the facilities or dropped off at the school where we will make sure they get delivered.
To make this fun, we have decided to put all the students names who contribute to the project in a draw and they will have a chance to win one of multiple prizes.
Please email kimberly.rae@westwind.ab.ca to report how many valentines were made and what facility they were dropped off to to get your name entered into the draw.